Computer to Screen Imaging System
Screen Meister MDS-360
To make silkscreen until now, it have been taking a lot of time and effort to prepare a film, to coat & dry emulsion on the mesh, to expose a coated mesh, to wash out & dry. This is a bottleneck to improvement of productivity.
Whole of the above process become unnecessary with Mitsubishi on Demand Silkscreen(MDS) System that consists of "ScreenMeister" MDS-360, an easy-use computer-to-screen device and "Thermal Screen Mask" TSM, ready-made screen mesh. Design data is output directly from PC via MDS-360 to TSM. With this system, we have achieved to shorten the process from 3 hours to a few minutes and save cost drastically.

Also, as this process does not use water, this system enable you to make silkscreen even in office.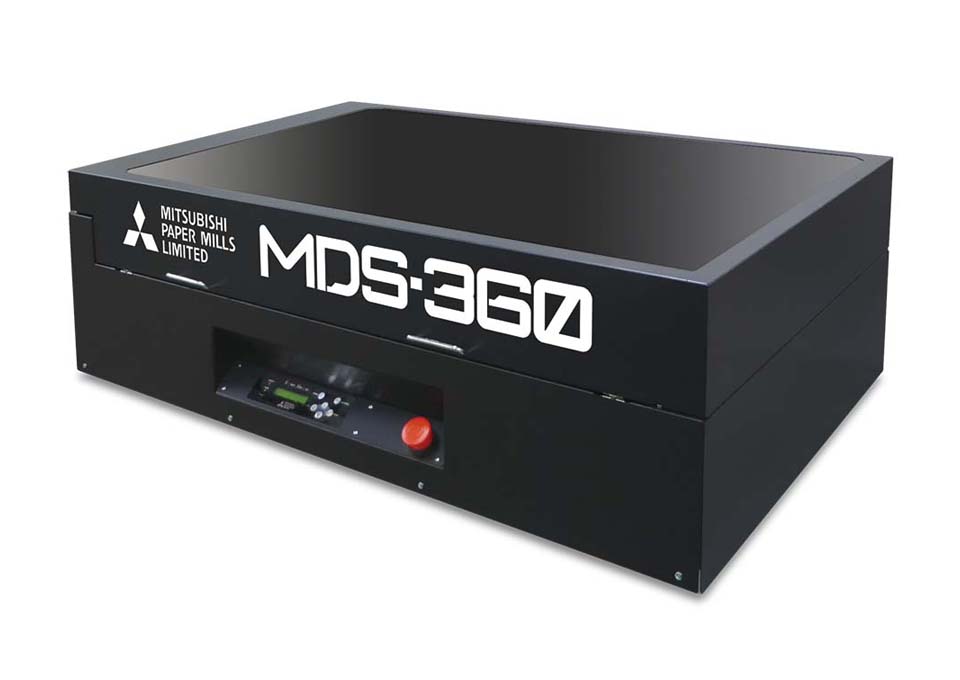 Now that people are attracted much more by social media campaign, events or club activities, the demand for custom-made garment is remarkably increasing. MDS System will be the best solution for these many kind, small lot and short delivery time of job.
"Thermal Screen Mask" TSM Does not Choose Ink"Thermal Screen Mask" TSM Does not Choose Ink
The thermal screen mesh dedicated for MDS System can be used with water-based ink, solvent ink, plastisol ink, UV ink and any ink basically used in screen printing.
Of course, benefit of screen printing: can be printed on any material, is the same as usual. This feature will widen an opportunity of your screen printing.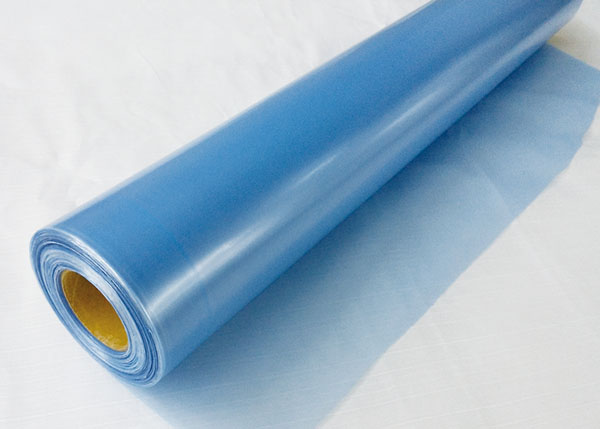 High Resolution Thermal Head
MDS-360 has a 1,204 dpi high resolution thermal head. This head was formerly developed for TDP: our thermal offset plate-setter and its image quality has been given a high evaluation for a long time. Maintenance is easy: just wiping the head's surface lightly about once a day, and other daily maintenance is not necessary.
In combination with TSM, it is possible to print not only on fabric print but also high definition printing on metal, plastic and others. This can also be used for nameplate printing, seal printing, and other industrial prototyping applications.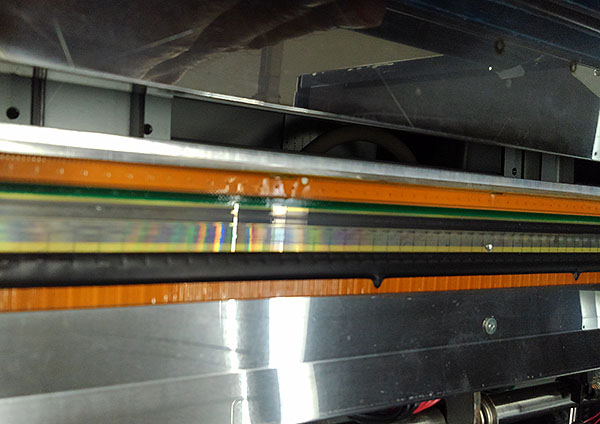 Special Device Manager "ScreenToolBox"
The control software "ScreenToolBox" dedicated to MDS-360 was developed to maximize the performance of the device.
PDF files, TIFF, PNG files can be managed as they are on ScreenToolBox. Optionally, it is also possible to output Gerber for printed circuit board.
For Adobe Illustrator, a special script is prepared. Image layers are seamlessly output from Illustrator to the MDS-360 with the script.
Also, even a handwritten picture can be output to the screen plate with TWAIN scanners. ScreenToolBox has many useful functions.
Of course, you can manage MDS-360 device from the PC side without touching the device unit:
checking the status, adjusting a head position, setting the channel. The ScreenToolBox is designed to let you arrange images freely, and you can save the layout as an unlimited template.
When you print logo data, you might want to output to various images on the same position, this function is useful.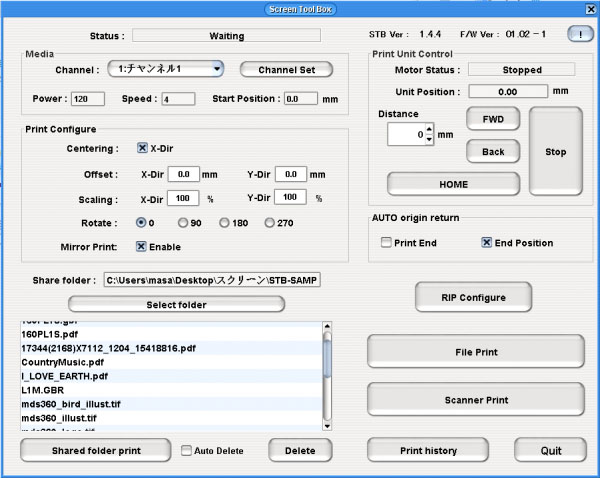 Spec
Screen Meister MDS-360
| | |
| --- | --- |
| Imaging Technology | Direct thermal imaging method |
| Resolution | 1,204dpi |
| Recording Speed | 60 Seconds(Maximum size) |
| Maximum Recording Size | 360×620mm |
| Maximum Frame Size | 580×800mm(Outer dimension) |
| Minimum Frame Size | 400×260mm(Inner dimension) |
| Usable Mesh | 70 to 270/inch(28 to 106/cm) |
| Power Requirements | AC90V to 264V Auto sending, 50/60Hz |
| Dimensions(WxDxH) | 1,100 X 700 X 365mm(Cover open / H940mm) |
| Weight | 80kg |
Dedicated Controller(Software)
| | |
| --- | --- |
| Product Name | Screen Tool Box |
| Data Format | PDF, TIFF, PNG, Gerber(optional) |
| Operating System | Windows10 Pro 60bit |
| Lint To Screen | 20 to 120lpi |
| Dot Angle | Flexible |
| Dot Shape | Square, Circle, Oval, Diamond, Rhomboid, Cosin, Line, Crossline |
| Channel | 10 channels |
| Other Function | Scanning analog data |
TSM series TSM-80,TSM-100,TSM-120、TSM-230
(Others are production to order, please ask a distributor in your area about details.)
*Numbers are mesh size and described as N/in inch.
Usable Inks: Water-based, Solvent, Plastisol, UV and any inks for screen printing. *Please test with your ink and ink cleaner in advance.
Storage: At room temperature avoiding direct sunlight.