CTP Polyester/Paper Printing Plates
Silver Digiplate
Silver Digiplate from Mitsubishi is the perfect CTP solution.
Economical CTP solution
Higher productivity at reduced cost
Perfect for short-run printing
Ideal for 1-, 2- and 4-colour work
High quality first-generation printing
For sheet fed and web presses
Silver Digiplate Polyester and Paper printing plates
MPM is the world leader in polyester and paper based silver halide printing plates.
Several thousand customers world wide have profited from our experience in CTP technology for more than 25 years.
Silver Digiplate increases productivity and lowers costs, even for printers with lower plate consumption. CTP eliminates conventional platemaking steps such as film exposure and manual plate copy and provides a quick return of investment for the complete CTP system.
You may already own the equipment you need to go CTP. Mitsubishi's line of Silver Digiplate materials produces first-generation printing plates from most laser imagesetters.
For the highest CTP performance SDP-Eco1630IIIR is a dedicated platesetter designed specifically for use with Silver Digiplate.
The Silver Digiplate system makes plate production easier on your business and with less waste it is friendlier to the environment.
Silver Digiplate is as effective in the press room as is in the prepress area. Its registration accuracy makes it perfect for either sheet fed or web presses.
The quality and stability of Silver Digiplate material will improve the cost efficiency of your production.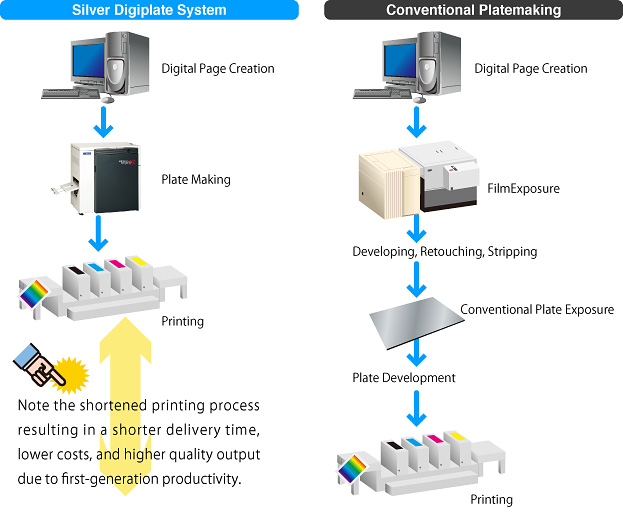 Specifications of Polyester/Paper printing plates
| | Substrate | Material thickness | Light source | Run length |
| --- | --- | --- | --- | --- |
| SDP-FRS175 | Polyester, matt reverse side | 0.20 mm | Red-LD (633-680 nm), He-Ne (633 nm) | 20,000 impressions |
| SDP-FR100 | Polyester | 0.12/0.20 mm | Red-LD (633-680 nm), He-Ne (633 nm) | 20,000 impressions |
| SDP-RR 175 | Polyethylene coated paper | 0.14/0.19 mm | Red-LD (633-680 nm), He-Ne (633 nm) | 10,000 impressions |
This material is available in rolls for various imagesetter specifications.
Specification described above are dependent upon laser power as well as processing and press conditions.