Good sleep / Insulation and moisturizing cover
mydome / mydome・pal
Mydome is made from thick nonwoven fabric and tent-like shape when unfold.
You can keep your own space around your head just like a "dome" regardless of the situations you sleep.
Much-valued tiny space for your good sleep,keeping warm,and moisture retention.
The nonwoven fabric used of MYDOME is a high-quality product using the high paper manufacture technology, not the cheap dry process manufacturing method.
It is made of a synthetic fiber such as Rayon and Polyester, and cellulosic fibers which made from natural wood pulp with Japanese clean water.
It is a feature that the combination of fiber materials.
Formulation of the fiber material was decided a smooth texture by the monitoring test over and over again with staff of women sensitive as keeping stable strength and a moist feeling with having a very fine texture.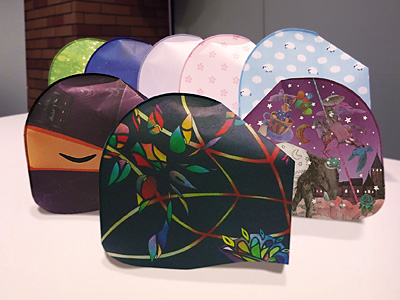 mydome[Basic size]

mydome・pal[Compact size]

Feature
Inside the "dome", optimum humidity is kept by your exhalation providing your nose, throat, and face skin to be well moisturized while you sleep.
This is the same effect you can obtain by wearing a mask, however your sleep never be disturbed and you can relax since Mydome does not interfere with your breathing.
Mydome is not only use in the bed, but also use for the travel.
Good for the long-time/distance trip by train, bus, or airplane.
Mydome is not a disposable commodity. As material is high-glade nonwoven fabric made in Japan and robustly sewn, you can hand-wash repeatedly and use for a year.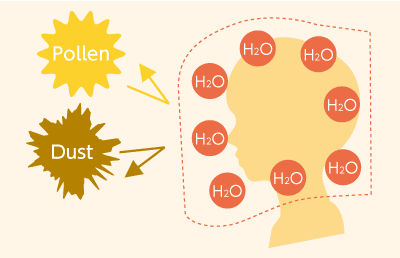 Notes
Please stop using this immediately if you become unwell or feel a stifling during use.
Please be careful when you use this if you treated a perm or hair color on your hair.
Please do not use this if you develop skin conditions or if you have skin abnormalities.
Please do not use it for Infants.
Please be careful to away from fire.
The color of this item will may run due to the nature of the dye, if it is rubbed with strong or in case of being wetted with water or sweat.
You may smell raw materials remaining after opening a package.
Please use at a later time after opening.
There are individual differences in effect.